This tutorial will teach you to create a metal skull using the pen tool.
We will be using this sketch of a skull: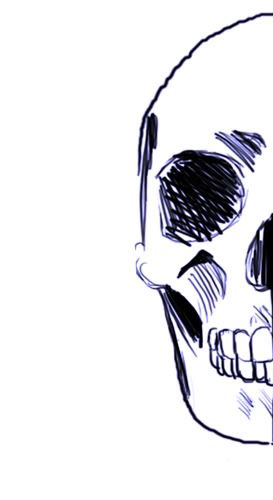 Let's change the Colour Balance to make our skull bluish...
1. Go to the bottom of the Layers window to the circle with half white and half black. Then go to Colour Balance...
2. Slide the bar slightly towards blue as desired.
Let's draw a crisp vector outline for the skull:
1. Go to the pen tool [P]
2. Left click the canvas to make a
Control Point
. Now move your pen a few centimeters away from your first point and left click to make a second Control Point.
3. Click the midpoint of your line to create a
Tangent Line
. This allows you to create curves.

4. Hold [CTRL] and [left click + hold] to drag the middle point to make a curve.
5. Now click further down from your line and join to your first Control Point to make a
Shape
.
6. Go to your layers > double click your shape's colour > change to black.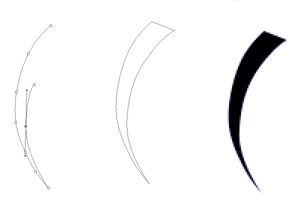 7. Now use this same process to create an outline around the skull. Remember to variate your Shapes with different thicknesses to create depth. You should arrive at something like this:
Taking this from Man to Machine
1. Using the same pen-tool techniques, go to the teeth of the skull and outline of them.
2. Make the Shape white.
3. Go to layers > right click the Shapes layer > Blending Options > Gradient Overlay.
4. Modify the gradient to silver/white.
5. Do each tooth in the same way.
6. To save time: right click your tooth layer with the gradient > Copy Layer Style. Then right click your other tooth layer
without
a gradient > Paste Layer Style.
7. Repeat this process to cover the skull completely with metal plates. Modify the gradient overlay of each Shape to direct the highlights where you want them to go.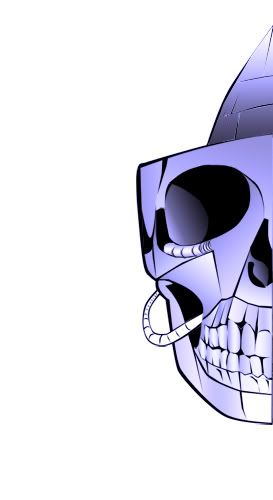 Cosmetics
Add openings to your skull for dramatic impact.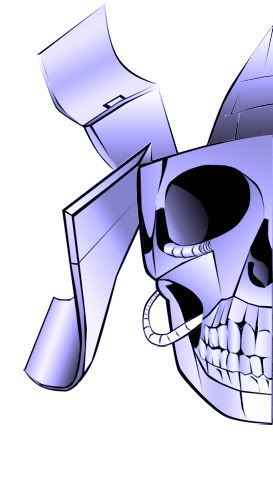 Add a mess of wire muscles using a fine 2px brush with different colours and also add small screws on each metal plate for the artistic touch.
And there we have it: a Cyborg Skull.
A gaseous planet of electricity is added to the background, but be creative, you can create any sort of background that you wish.