Introduction
Panoramas are a great way to depict a scene that is too large to fully capture with a regular sized photograph frame. Now you don't need an amazing camera, you can use any point-and-shoot and you will get satisfying results. Having a tripod helps but is certainly not necessary.
Taking the shots
Now if your camera does not have an auto-stitch function, you can simply take a photo and shoot another adjacent to the first, remembering to leave a small overlap. Try to avoid a large overlap as any moving subject will be blurred.

When your on your computer you can then stitch the panorama together.
Selecting a method
The first way to do this is to do it manually but the problems you will have is that perspective will not allow the photographs to line up. You need to have a certain amount of distortion to make the panorama work.

The second is if you have Windows 7, select the photos you want to turn into a panorama, right click>turn to panorama. The quality may lack with this method.

The third is to use a program. PhotoshopCS3 onwards has its own stitching function. There is also AutoPano, PTGui, Autostitch 2.2 - all should be freeware. Remember to put the quality up for any program you use, don't let the programs reduce the quality!

Stitch it up
Example program is Autostitch 2.2:
1. First go to Edit > Options
2. Set Scale and JPEG quality to 100% (as shown below)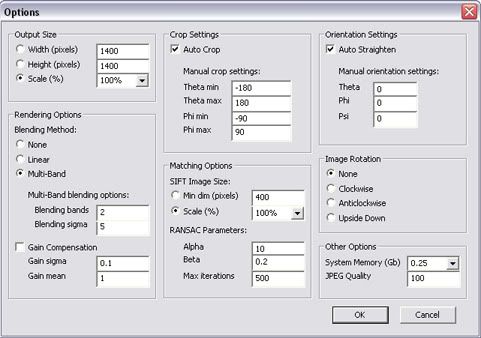 3. File > Open
4. Select all of the images to stitch from your files and it will automatically stitch them together and produce a file automatically called Pano.jpg
5. There you have it an uncropped panorama!

Crop it
Right, you will need to crop your image as well. Simply open it up in photoshop and Crop (C) to draw a frame, adjust accordingly and double click in the frame. If you do not take your photographs in a consistant horizontal run, you can lose quite a bit of the bottom and top of the panorama when it comes to cropping. In the photograph below, you can see that the people in the panorama will be cropped out which is a shame. So keep that in mind when taking photographs, or use a tripod.
Example results
with notes


Intro:
Here are some examples where can give composition tips and point out some pitfalls. I didn't really use panoramas until I went hiking around Snowdonia, North Wales. I found it was the only way to truly give the landscape justice.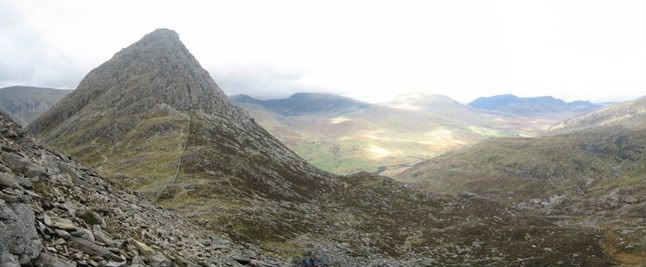 (Image above) A focus helped bring this one together. If there is no focus points in the landscape, it falls flat and therefore loses its punch.
(Image above) We usually try to avoid having people in our landscape photographs. But it helps having some people in it as it makes the landscape appear more grand. It goes back to the days of sublime landscape painting to show how insignificant we are to nature etc.

(Image above) If you find that you want to capture the vertical and the horizontal, simply flip your camera 90 degrees and take a panorama like this. It will not work if your camera has an autostitch function, but will work with whatever program you have on the computer.

(Image above) Rule of thirds did something to this one, although it seems like rule of quarters here. The idea is to divide the panorama into thirds and situate the focus (the mountain in this one) on one of the thirds.

(Image above) Blurring on the left and bottom - too much overlap in my photographs. This can also happen if there are moving subjects and you overlap far too much. Keep a small overlap otherwise everything will blur when it is all stitched together.


Conclusion
Experiment with your camera and use different programs to find what works for you. Remember to take mind of blurring, composition and cropping that can affect the end result of your panorama.